Okinawa has long been a popular escape for domestic tourists looking to enjoy the subtropical climate, vibrant marine life, pristine beaches, crystal clear water, unique culture, and a laid-back lifestyle. In recent times, it's been gaining a little more traction with international guests who are starting to get the locals' tips on this relatively untouched beach paradise.
If you're looking to enjoy island life in convenience and style, and want to avoid the crowds, consider booking a Okinawa resort, hotel, or villa with its own private beach. It sounds exclusive, but luckily there's no shortage of coastline across Okinawa's islands, meaning you have plenty of options to choose from.
Top tip: Check out our guide to planning a trip to Okinawa on a budget.
Halekulani
Sitting somewhere between an Okinawan escape and a Hawaii holiday, Halekulani is a luxurious resort located on Okinawa's mainland and a relatively new addition to the island's resort scene. The sprawling 32-acre facility, which takes up residence on the lush land within the Okinawa Kaigan Quasi‐National Park, is the first Halekulani resort outside Hawaii.
The hotel faces out onto approximately 1.5 kilometers of coastline. A popular destination for domestic travelers looking for an internationally influenced escape, the hotel boasts all amenities you'd expect from an upmarket resort of this size, including a private beach. The beach is staffed throughout the day, and the hotel offers fresh towels, water, and banana lounges, so all you really have to bring is yourself.
One of the most exciting aspects of Halekulani, beyond the resort itself, is that the hotel offers guests a range of immersive cultural experiences inspired by the unique culture of Okinawa, so guests can learn more about the area in depth. Rates and info.
The Busena Terrace
Nestled among the lush trees and white sands of Nago on Okinawa's mainland is The Busena Terrace, a luxury resort designed for the most luxurious of travelers. The facility looks out onto the water and offers spacious, light-filled guestrooms with excellent views, round-the-clock service, shops, restaurants, spa treatments, and plenty of opportunities for those who want to explore Okinawa in more depth.
The resort also has two pools, one outdoor leading out onto the beach, complete with a water slide and waterfall, which is open in the warmer months. The other pool is indoors and opened all year round. However, if you're here for the pristine beaches, and why wouldn't you be, then they also have a private 760-meter-long white sand beach on site. It's open year-round and is well staffed, so you can swim in safety and style. If you want to explore the coast a little more, the hotel also offers cruises, snorkeling and skin diving tours, and watercraft rentals. Rates and info.
Jusandi
For something a little different, it's worth heading off the main island of Okinawa and exploring one of the smaller islands. Ishigaki is the ideal combination of popular enough to offer plenty of tourist options and activities but far enough away to feel at times like a true tropical retreat. Jusandi, nested in the subtropical surrounds of Ishigaki, is one of the island's best resorts. This impressive 20,000-square-meter luxury retreat has five 1- and 2-bedroom suite villas, ideal for those who want a little extra privacy.
While the beach may not be technically private, the facility is far enough away from the rest of the island's traffic to feel entirely secluded, making it worth a mention. Plus, the entire facility was built just a 15-minute walk from Ishigaki Island's sacred Blue Cave, where (as the name suggests) the water inside the cave shines a spectacular turquoise blue. You can take a kayak tour of the site to really take it all in up close. Rates and info.
Tsundara Beach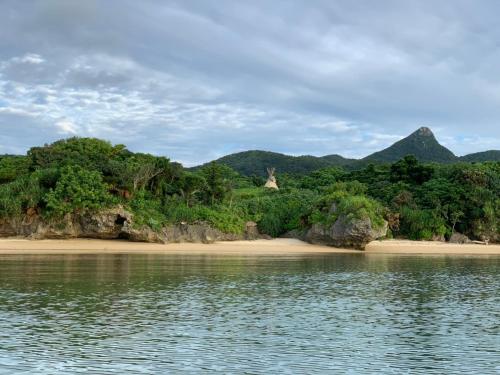 If you're not much of the resort type and would like something a little more independent, then Tsundara Beach, a private beach house retreat located on Ishigaki, could be the spot for you. The house is ideal for single visitors, couples, and small groups (of around four people). It's completely private and secluded, and accessible through the main entrance or from the sea.
The breezy 100 square meter house comes with a full kitchen and laundry facilities, a private patio with a pergola, and parking. Also, it's just a one-minute walk through the yard to your very own pristine, private beach, perfect for those looking for their own little private island. Rates and info.
Hoshino Resort Risonare Kohama Island
One of the most recent ventures for Japanese luxury hotel brand Hoshino, Risonare Kohama is an exclusive-feeling private resort hotel that opened in summer 2020. The facility has 60 suite rooms and panoramic beach views, and it was constructed to feel entirely secluded from the rest of the world. Risonare Kohama is situated on Kohama Island, a small island that sits between Ishigaki and Iriomote, offering easy access to both.
The facility boasts everything you'd expect from a Hoshino Resort, high-end dining, meticulous hospitality, and plenty of style. It also has a pool with sweeping ocean views. However, the private beach facilities are the highlight. The beach is lined with colorful deck chairs under the parasols and is fully staffed throughout the day, so you can enjoy your Okinawa beach life in style. Rates and info.
Okuma Private Beach & Resort
Sitting on the northern coasts of mainland Okinawa, nested between the ancestral Yanbaru Forest and the East China Sea, is where you'll find Okuma Private Beach & Resort. The facility offers cottages and villas for more intimate style accommodation and is perfect for families and the like.
While the rooms are stylish and well worth the visit, it's the resort's beach access and marine sports opportunities that make it a super noteworthy destination. The resort's private beach is open throughout the year. For those looking to explore the coast a little more intimately, Okuma Private Beach & Resort also offer a range of marine sports activities, like diving snorkeling tours, cruises, SUP (stand up paddleboard) rental, and on the other end of the spectrum, hammocks for those who just want to relax. Rates and info.
Looking for islands a little closer to Tokyo? Check out these 9 Tokyo islands that are technically in the city.