Shimanami Kaido is one of the country's unique and increasingly popular tourist destinations for both international visitors and domestic travelers. Located in Hiroshima and Ehime Prefecture, this cycling route, which is gaining a reputation for being one of the best cycling routes in the world, is a picture-perfect way to see a more natural side of Japan. Along the route, you'll island hop across a series of long-reaching bridges connected by a network of paths. Relatively flat, incredibly scenic, and very easy to follow, Shimanami Kaido is doable for most cycling levels and has a lot to offer. If you want to make your next Japan adventure an outdoor one, make it this one.
Shimanami Kaido overview
While it's become shorthand for the cycling route itself among most visitors, Shimanami Kaido (also known as Nishiseto Expressway), which opened in 1999, is actually a toll road that consists of a series of bridges and roads that connect Honshu (Japan's biggest main island) to Shikoku. It passes over a family of six small islands that dot the ocean that separates the two islands, scatting in a linear fashion, like stepping-stones along the Seto Inland Sea. And, if you feel so inclined, it is possible to walk the route on foot.
Route
Heading from north to south, the route begins in Onomichi, a coastal city in Hiroshima. From Onomichi, you take a ferry to Mukaishima, and continue on through the islands of Innoshima, Ikuchijima, Omishima, Hakatajima, and Oshima, before terminating on Shikoku in Imabari City. The journey finishes officially at Imabari in Ehime Prefecture.
How long to cycle Shimanami Kaido
What makes the Shimanami Kaido such an excellent cycling route for all types of cyclists is its flexibility. It's relatively flat all the way and clocks in around 70 kilometers, making it an easy full-day, end-to-end journey for more experienced cyclists. However, if you want to make the most of the stunning scenery, and you should, it's recommended you spread the trip over two days, stopping halfway at one of the many hotels or guesthouses along the way (we have some recommendations below).
Suggested Activity
Brunch at Nishiki Market in Kyoto
Start your day the right way -- with a delicious brunch in "Kyoto's kitchen", also known as Nishiki Market. The market has a long history, going back more than 400 years. ...
If you're visiting in summer, there's also plenty of opportunities to cool off at one of the many beaches that line the route, and there's no shortage of excellent local restaurants and ice cream shops to stop off along the way too.
When to go
In terms of climate, this area is generally quite warm year-round. However, so as not to get overheated, it's best to avoid the dead of summer. You may also want to skip the end of June/early July, which is when the rainy season usually hits. Spring (March to May) and autumn (September to November) are ideal times of the year, as the temperature is milder, and hopefully, the skies are clear.
Bike rental
The areas around Onomichi and Imabari are well equipped with bike rental options, including private rental shops and local rental systems. However, the one issue with renting from a private store, riders will have to return their bikes to their original destination, which means cycling the route twice, cycling halfway and returning, or organizing a bike rental return service.
If you can take advantage of the pick-up, different destination drop-off system, we'd recommend it. Essentially this means you can grab your bike in Onomichi, ride it to Imabari, and drop it off there. There are two main rental systems like this that are straightforward, English friendly, and easy to use.
Shimanami Japan runs the first system. They have multiple terminals located along the route and are also the cheapest offering of the two options, with bikes costing 2,000 yen per day (electric bikes, 3,000 yen) with a 1,100-yen deposit. The type of bikes available depends on the terminal, but you can also make a bike reservation online to be safe. It's worth noting that if you rent an electric bike, it does have to be returned to its original terminal.
Alternatively, if you'd like something a little nicer, bike brand Giant offers a similar pick-up/drop-off system, with a terminal at Imabari and the other at Onomichi. This does have some limitations, though. The bikes here will set you back around 4,000 to 15,000 yen per day, and drop-off at the other terminal is only possible with their road bicycles. To organize this system, a prior reservation and an additional 3,300 yen fee are necessary.
The islands and their highlights (starting in Onomichi)
Let's briefly run through the islands and their highlights traveling from Onomichi to Imabari.
Mukaishima
The first of the islands, most of the highlights you'll find here run along the blue-marked cycling route. The route runs along Tachibana, a stretch of coastline with some popular pit stops, like cafes, an artisanal chocolate store, and a verdant torii gate overlooking the water. If you haven't had breakfast or you need a little caffeine, this is the perfect place to do it.
Innoshima
The journey through this island is short, only about 8 kilometers or so, meaning that if you really want to see the island and its sights, you'll have to go a little off the main route. Innoshimaohashi Memorial Park is probably the most popular and easily accessed highlight on this island. Here you'll find an unexplained, giant white dinosaur statue and rest facilities—seats, public toilets, vending machines, and the like—nested right by Shimanami Beach. If you have the time, energy, and motivation to go a little deeper, the island also boasts Mount Shirotaki, home to 700 Buddhist statues and spectacular views of the Innoshima Bridge.
Ikuchijima
Tucked neatly in the middle of the journey, Ikeuchi is possibly the most touristic island of the route, making it an excellent place to stop, take a rest, explore the area on foot, and even stay for the night. The biggest attractions here are Kosanji Temple and the Hill of Hope. The former is a spectacular Buddhist temple built in the 1930s by a wealthy Osaka businessman. Sitting behind it is the huge white marble immersive sculpture crafted by sculptor Kazuto Kutani. Little tip, across from the entrance of Kosanji Temple is Setoda Dolce (ドルチェ 耕三寺前店) an excellent little ice cream/gelato shop. Another highlight is the recently opened Soil Setoda cafe and hostel, which we'll talk about a little more in the accommodation section.
Omishima
Although it's the biggest of the islands on the route, the journey through Omishima is short, about 5 kilometers running along the island's east coast. If you want to explore in more depth, there are plenty of options to do so, with shrines, modern museums, and stunning nature spots dotted throughout the island's landscape. With so much to see and do here, staying on the island for the night is also a great option. Shimanami Japan has put together a comprehensive outline on Omishima's many features if you'd like to take a deeper look.
Hakatajima
If you stick to the main cycling route, Hakatajima is only briefly covered, as the road runs along the island's western coast. If you're so inclined, it is quite doable to cycle the island's circumference, which clocks in at 20 kilometers and is relatively flat. Alternatively, you could scale the 149-meter high Hirakiyama mountain, which in spring offers incredible views with the landscape blanketed in soft pink cherry blossoms.
Oshima
Congratulations, you're on the home stretch now, so to make the most of your ride, try and take the Island Explorer route, which runs along the west coast. Along this way, you'll find beautiful long sandy beaches, quaint fishing ports, and impressive shipyards, and sweeping views across the water to the Kurushima Kaikyo Bridge, an iconic view of the Shimanami Kaido.
Recommended hotels
Tomarigi Hostel
A cute, new family-run hostel, ideally located on the west side of Omishima, Tomarigi Hostel offers private tatami rooms (perfect for traveling groups) with simple futon bedding and shared bathrooms and kitchen area. If you want to make the most of exploring Omishima, the hostel is just a short walk from one of the main town centers, home to cute dining establishments, some bars, and lovely ocean views.
Soil Setoda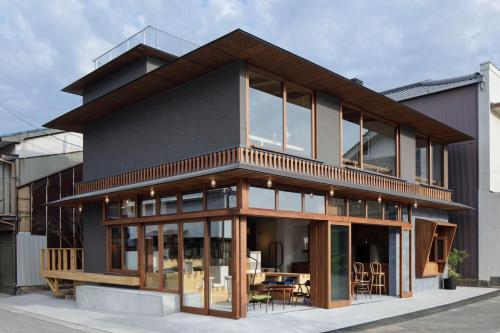 One of the newest accommodations on the route, Soil Setoda is a stylish cafe and hostel located on Ikuchijima. The building, while new, has been designed as an homage to the history of the island, clearly drawing design inspiration from the area's salt storehouses. There's a cafe and restaurant on the first floor, called Minatoya, which calls itself a "not quite luncheonette but not quite izakaya." On the second floor are the rooms, which are elegantly minimal and offer stunning views of the port of Shiomachi.
How to get there
Start the journey in Onomichi. The best way to get to Onomichi from Tokyo by Shinkansen (bullet train) is to take the JR Tokaido/Sanyo Shinkansen, then make a transfer at either Okayama Station or Fukuyama Station. (Note: Shin-Onomichi Station is serviced first by the Shinkansen, but it's not the stop you want to be at.)
Alternatively, and an often cheaper and faster way to get to Onomichi from Tokyo is to take a domestic flight from Haneda Airport to Hiroshima Airport. From the airport, you can grab an airport bus towared Fukuyama and, after transfer to the Flower Liner bus at the Takasaka bus stop to reach Onomichi Station, or catch the JR San-yo Line Local from Fukuyama to Onomichi.
Route
Airline
One-way Fare
Date
Tokyo Narita => Hiroshima International
Spring Airlines Japan

US$

29.00

Nov 05, 2023
Booking options
Tokyo Haneda => Hiroshima International
Japan Airlines

US$

75.00

Feb 06, 2024
Booking options
Tokyo Narita => Hiroshima International
Jetstar

US$

169.00

Jan 31, 2024
Booking options
Tokyo Haneda => Hiroshima International
ANA

US$

231.00

Apr 14, 2024
Booking options
Related reading
For more cycling adventures in Japan, check out the following guides: