The only thing better than spending an evening soaking in a gorgeous traditional, open-air onsen (hot spring) after a long day exploring the best of Japan is to enjoy said onsen with no others around.
While public bathing is practically a national sport in Japan, getting nude with strangers can be a bit of a culture shock for some visitors (and can be a total no-go for folks with tattoos). However, there are still ways to enjoy this incredibly mindful and relaxing pastime in total privacy. The country is dotted with plenty of onsen towns, most of which boast private onsen alongside their public offerings. We've rounded up a select few ryokan (traditional inns) with private onsen in Japan.
Yunohana Resort Suisen, Kyoto
Located not too far from Kyoto City in the hot spring resort town of Yunohana is where you'll find this gorgeous ryokan, which combines traditional Japanese ideologies with contemporary design to offer the best of both worlds. It's an ideal option for those who want to explore Kyoto and have easy access to many of the area's main attractions while still avoiding the more tourist-populated center of the city.
The facility has both public baths — separated by gender — and an additional outdoor stone bath, which can be rented for an additional fee by the hour. If you want to be a little fancy, the ryokan's Japanese-style rooms boast wooden baths on the balcony, looking out onto the lush forested surroundings. Book your stay.
Ryokan Kurashiki, Okayama
One of the lesser-known onsen destinations for those outside Japan, Okayama Prefecture's town of Kurashiki is a luxe little escape where you can avoid the crowds and immerse yourself in the history of Japanese hospitality and relaxation. Situated in the picturesque Bikan Historical Quarter, Ryokan Kurashiki opened in the 1950s and is an intimate ryokan — just eight rooms — that once hosted Sophia Loren (in the Okuzashiki suite to be exact). How's that for a little pop-culture novelty? The ryokan also offers private bathing for its guests in its gorgeous onsen facility, bookable by the hour. Book your stay.
Hakone Suimeisou, Kanagawa
Hakone, located at the foot of Mount Fuji, a scenic train ride from Tokyo, is a popular weekend and overnight destination for international visitors and locals, thanks to its seemingly endless offering of spectacular views, hot springs, and ryokans. One of the most impressive facilities is Suimeisou, located just three minutes from Hakone Yumoto Station.
What makes this place unique is that it's not a super traditional ryokan but a modern take on a classic. It boasts minimalist design principles and classical motifs with contemporary comforts (like Western-style bedding). The facility has public baths and a private one, which can be booked by the hour and boasts smaller baths on the balconies. Book your stay.
Bousui, Shizuoka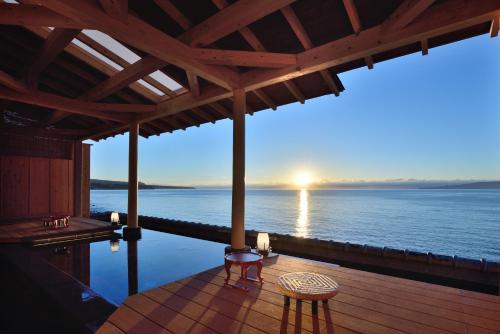 Another ideal weekend or overnight destination from Tokyo is Shizuoka, a prefecture home to scenic coastlines and one of Mount Fuji's home prefectures. If you're a beach lover, some time spent in Shizuoka's Izu Peninsula is well worth adding to the itinerary, as is a stay at the ryokan Bousui. Located in East Izu Hokkawa Onsen, Bousui has the best of both worlds, an idyllic position right on the coast and access to mineral-rich onsens. Each of the rooms in this artfully designed hotel offers a taste of old-world Japanese elegance. In addition, each room comes with sweeping ocean views and a private bath, from which to best admire the views for complete luxury. Book your stay.
Nishimuraya Honkan Kinosaki Onsen, Hyogo
With streets that still today look like a scene ripped straight from a historical drama, Kinosaki Onsen in Hyogo Prefecture is regarded as one of the most beautiful and picturesque onsen towns in Japan. Nestled in a valley, flanked by mountains and surrounded by the nearby sea, the landscape here is dotted with hot spring sources. One of the perfect places to enjoy Kinosaki's mineral-rich water is with a stay at Nishimuraya ryokan.
A truly traditional establishment, this ryokan was founded in 1860.
It offers a deeply authentic experience, from the interior design to the cuisine and, of course, the baths. There are public baths available as well as smaller baths that can be booked for private bathing. Book your stay.
Ogoto Onsen Yumotokan, Shiga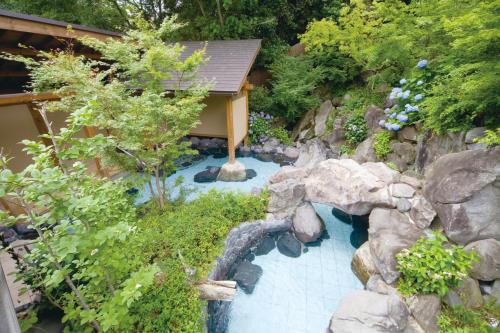 For somewhere a little different, a lot less tourist-populated, and incredibly tranquil, consider visiting one of Japan's lesser-known prefectures, Shiga, for your onsen escape. Nestled on the west side of Lake Biwa, Shiga's Ogoto Onsen town is practically untouched by international tourism, making it feel like a special local secret. Yumotokan is one of the highest-rated ryokan complexes in the area. And like others on this list, it blends the perfect combination of modern comforts and style with traditional design ideologies and classic Japanese hospitality. The facility has six different room styles to choose from, including a suite with a private bath. There is also an impressive selection of public baths and two additional outdoor baths that can be booked for private bathing sessions. Book your stay.
Tenku no Mori, Kagoshima
Although we'd suggest exploring the beauty of Kagoshima in a heartbeat, it's worth visiting this southern prefecture for Tenku alone. Tenku is a concept ryokan-hotel that, according to its founder, has been 25 years in the making. The facility is dedicated to the healing qualities of nature and immersing oneself in Kagoshima's rugged, natural beauty. Rather than rooms in a hotel, Tenku is a collection of villas, complete with onsen baths that are so remote that private guests are even encouraged to embrace the nudist way of life. Book your stay.
Related reading